Phone for a FREE consultation
07808 476868
Magic Match
Vehicle Cosmetic Specialist
Phone for a FREE consultation 07808 476868
With over 20 years bodyshop experience
Followed by 10 years in smart repairs
We are confidently producing excellent results every time
Computerised colour match retrieval system
Covering Kidderminster, Stourport, Bewdley, Stourbridge
Halesowen, Bromsgrove, Worcester, Redditch & Droitwich
Don't delay... Call today!
About Magic Match
Magic match has been successfully running for the last 10 years in the local area servicing trade and retail customers. Local Garages requiring minor paintwork repairs have used Magic Match many times over and over again because they know we will not let them down
We turn up when we say without fail and carry out quality repairs every time. Enjoy hassle free quality repairs at very competitive rates.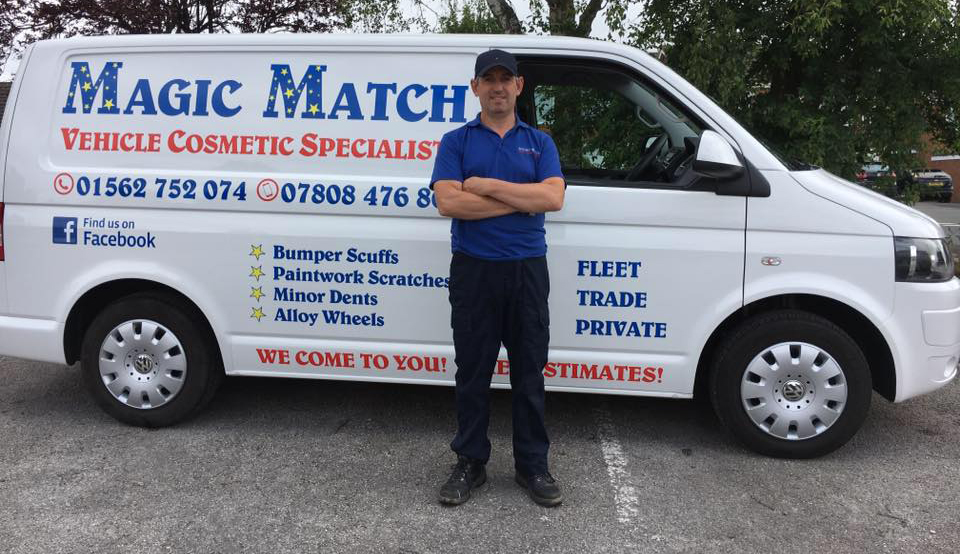 Magic Match provides the most professional cosmetic repairs at showroom standards!

I just wanted to say how pleased i was with the bumper repair you did on my car. I am absolutely delighted with the repair, Richard matched the colour perfectly.
I would recommend him to anyone
Stuart | Kidderminster
I am really pleased with the repair carried out today on my car, I never thought he would match up the colour so well, it is as though it was never damaged.
Extremely good value for money.
Jane | Stourbridge
Providing the most professional cosmetic repairs at showroom standards
© Magic Match. All rights reserved.